December 7 | 8:00 pm
The Void "Forecast" Launch/Lancement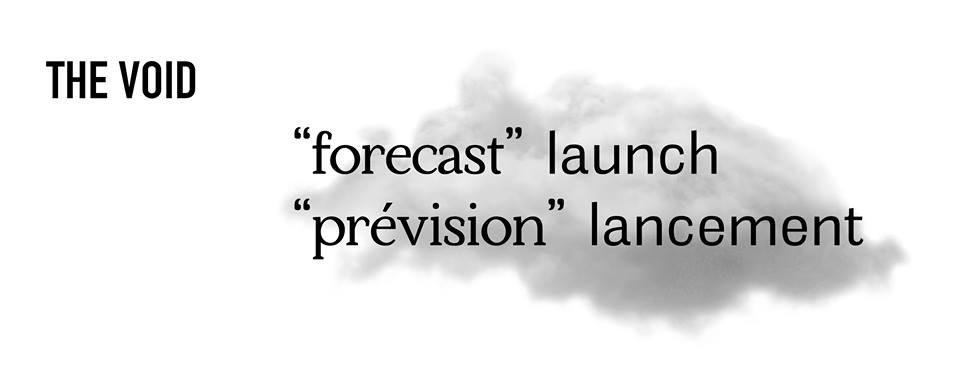 Join THE VOID for a night of readings, drinks and music in celebration of the latest issue !
More info here & excerpted below.
"Forecast" will take you from the cold touch of a beached whale to the hot shock of a leg on fire. It's an issue that warrants an accordingly strange and celebratory night.
=•=•=•=•=•=•=•=
~*~ EN PRÉVISION POUR LA SOIRÉE ~*~
Joignez vous à nous pour une soirée de lectures, de ver(re)s et de célébration pour notre plus récente édition ! "Prévision" vous amènera le froid du touché d'une baleine échouée et la chaleur du choque d'une jambe en feu. C'est une édition qui promet l'étrange autant que la célébration.
:::READERS TBA:::
:::MUSIC BY/MUSIQUE PAR:::
Wetface https://soundcloud.com/wetface
Mich Cota https://eggpaper.bandcamp.com/album/kija-care
:::DOORS / PORTES @ 8:00 // READINGS / LECTURES @ 9:00:::
~~$5 entry includes copy of the Void // l'entrée est 5$ et inclut une copie de The Void~~
***Bar St. Denis is wheelchair accessible — please contact thevoidmagazine@gmail.com for more accessibility info ***
Bar St. Denis est accessible aux chaises roulantes — Contactez thevoidmagazine@gmail.com pour plus d'information sur l'accessibilité.