March 15 | 7:00 pm
M. NourbeSe Philip, Cecily Nicholson, and Mercedes Eng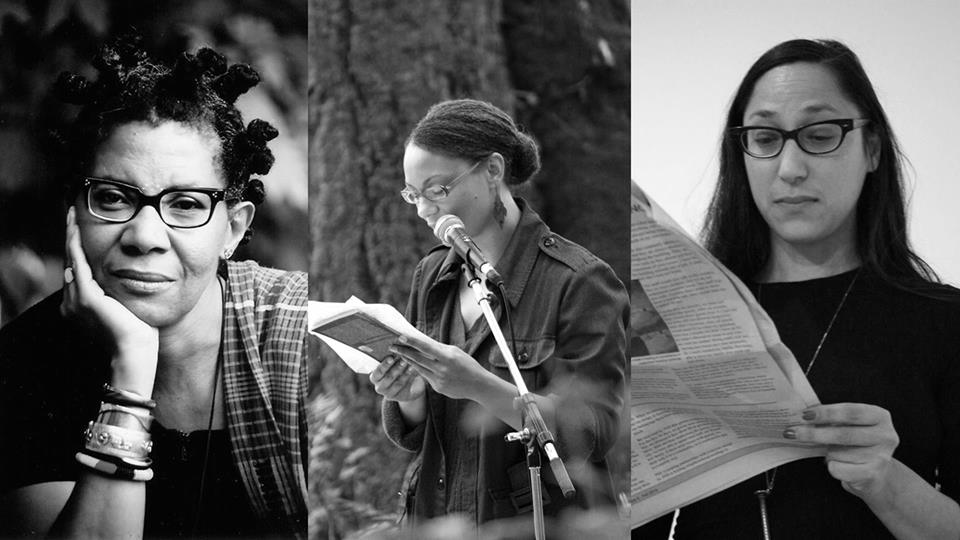 SBC Galerie d'Art Contemporain – Gallery of Contemporary Art
372, rue Ste-Catherine West, Suite 507
More information here & excerpted below.
***
"She, the many-voiced one of one voice."
An evening of readings by M. NourbeSe Philip, Cecily Nicholson, and Mercedes Eng
► M. NourbeSe Philip is an unembedded poet, essayist, novelist and playwright who lives in the space-time of the City of Toronto. She practised law in the City of Toronto for seven years before becoming a poet and writer. She has published four books of poetry including the seminal She Tries Her Tongue; Her Silence Softly Breaks, one novel and four collections of essays. Her book-length poem, Zong!, is a conceptually innovative, genre-breaking epic, which explodes the legal archive as it relates to slavery. Her most recent work is BLAnK is a collection of essays on racism and culture.
► Cecily Nicholson has worked since 2000 in the downtown eastside neighbourhood of Vancouver, currently as administrator of the artist-run centre, Gallery Gachet. A member of the Joint Effort prison abolitionist group and the research ethics board for Emily Carr University, Cecily is also the author of Triage and From the Poplars, winner of the 2015 Dorothy Livesay prize for poetry. She'll be sharing work from her new collection of poetry, Wayside Sang.
► Mercedes Eng teaches and writes in Vancouver, on unceded Musqueam, Squamish, and Tsleil-Waututh territories. She is the author of Prison Industrial Complex Explodes (Talonbooks, 2017) and Mercenary English (CUE Books, 2013; Mercenary Press, 2016), a long poem about violence and resistance in the Downtown Eastside neighbourhood of Vancouver. Her writing has appeared in Jacket 2, The Downtown East, The Volcano, on the sides of the Burrard and Granville Bridges as contributions to public art projects, and in the collectively produced chapbooks, r/ally (No One Is Illegal), Surveillance, and M'aidez (Press Release). She is currently working on a women's prison reader and a detective novel set in her grandfather's Chinatown supper club, circa 1948.
This event is curated by Michael Nardone as part of ZUTIQUE, an occasional reading series focused on poetry, performance, and sound.
Support for this event generously donated by Media @ McGill, Institute for Gender, Sexuality. and Feminist Studies at McGill, Professors Stephen Ross and Erin Manning, Simone de Beauvoir Institute, Leonard & Bina Ellen Art Gallery, BookThug and Talonbooks.
The event is free of charge.
– Accessibility Information –
The Belgo Building and SBC Gallery of Contemporary Art are wheelchair accessible. There is one wheelchair accessible, gender-neutral bathroom on SBC's floor.
https://www.sbcgallery.ca/accessibility
To bring forward any other accessibility needs, requests or questions please contact the gallery by phone at 514.861.9992 or by email at info@sbcgallery.ca.
– Informations sur l'accessibilité –
L'édifice du Belgo ainsi que SBC galerie d'art contemporain sont accessibles aux personnes en fauteuil roulant. Une salle de bain de genre neutre se situe sur le même étage que la galerie.
https://www.sbcgallery.ca/accessibilite
Si vous désirez nous informer de tout besoin, requête ou question relevant de l'accessibilité, n'hésitez pas à contacter la galerie par téléphone au 514-861-9992 ou par email à info@sbcgallery.ca.