March 3 | 11:00 pm
Exquisite Corpse (Drawn & Quarterly x Metatron)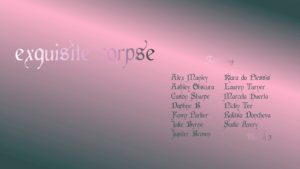 Nuit Blanche, 11pm-1am | 176 Rue Bernard O, Montréal
Full description here & quoted below:
In tandem with Nuit Blanche, iconic Mile End bookshop Librairie Drawn & Quarterly partners with Montreal-based publisher Metatron for a gathering of nighthawks and poets. Festival-goers are invited to experience 'Exquisite Corpse'—a surreal evening of collective curiosity. Known for their unique and dynamic events, Metatron has curated an evening that will not only feature an interactive, digital, collective writing experiment, but also a marathon-style reading featuring a dozen young, local writers. Come for a bit or stay for the whole thing! We have a numinous evening in the works to stimulate your mind with exquisite musings!
○○○ FEATURING ○○○
○ ALEX MANLEY | 'We Are All Just Animals & Plants' (Metatron)
○ ASHLEY OBSCURA | 'I Am Here' (Metatron)
○ CASON SHARPE | 'Our Lady of Perpetual Realness and Other Stories' (Metatron)
○ DAPHNÉ B | Delete (L'Oie de Cravan)
○ FAWN PARKER | 'Looking Good and Having a Good Time' (Metatron)
○ JAKE BYRNE | 'The Tide' (Rahila's Ghost Press)
○ JUPITER BROWN
○ KLARA DU PLESSIS | 'Ekke' (Palimpsest Press) and 'Wax Lyrical' (Anstruther Press)
○ LAUREN TURNER | We're Not Going To Do Better Next Time (Knife/Fork/Book)
○ MARCELA HUERTA | 'Tropico' (Metatron)
○ NICKY TEE
○ RALITSA DONCHEVA
○ SADIE AVERY | 'Meanwhile, Elsewhere' (Topside Press)
~
FREE!