September 20 | 7:00 pm
Turtle Island Reads | Celebrating Indigenous Stories & Authors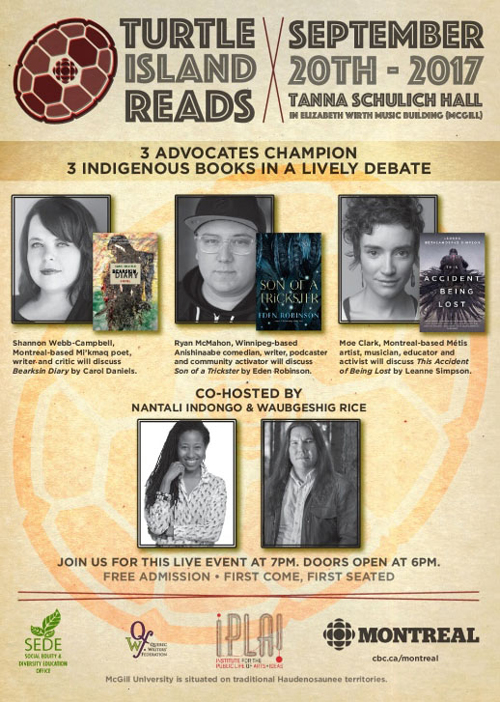 Turtle Island Reads
The QWF, in collaboration with CBC Montreal, and McGill University's Institute for the Public Life of Arts and Ideas and the Social Equity & Diversity Education Office, is proud to present a public celebration of stories written by and about Indigenous Canadians.
Now in its second year, the event will take place on Sept. 20 at 7 p.m. in Tanna Schulich Hall, located within McGill University's Elizabeth Wirth Music Building. Admission is free.
The event will be broadcast on cbc.ca/montreal and Facebook Live.
Hosted by CBC's Nantali Indongo and Waubgeshig Rice, Turtle Island Reads takes its inspiration from CBC's Canada Reads, sharing that program's goals of discussing and celebrating books. During the event, three advocates will discuss books written by Indigenous Canadian authors:
The advocates are:
Shannon Webb-Campbell, Montreal-based Mi'kmaq poet, writer, and critic will discuss Bearksin Diary by Carol Daniels (Harbour Publishing Co.).
Ryan McMahon, Winnipeg-based Anishinaabe comedian, writer, podcaster and community activator will discuss Son of a Trickster by Eden Robinson (Knopf Canada).
Moe Clark, Montreal-based Métis artist, musician, educator and activist will discuss This Accident of Being Lost by Leanne Simpson (University of Toronto Press).
Related Activity
The Quebec Writers' Federation is offering a one-day writing workshop: "Indigenous Poetics," led by Shannon Webb-Campbell, on Saturday, October 14, 2017. Poets of all levels, Indigenous and non-Indigenous, are welcome. Workshop registration will open to members of the public at the end of August. Contact workshops@qwf.org for information.