March 15 | 7:00 pm
Off the Page | Lemon Hound 3.0.3 Launch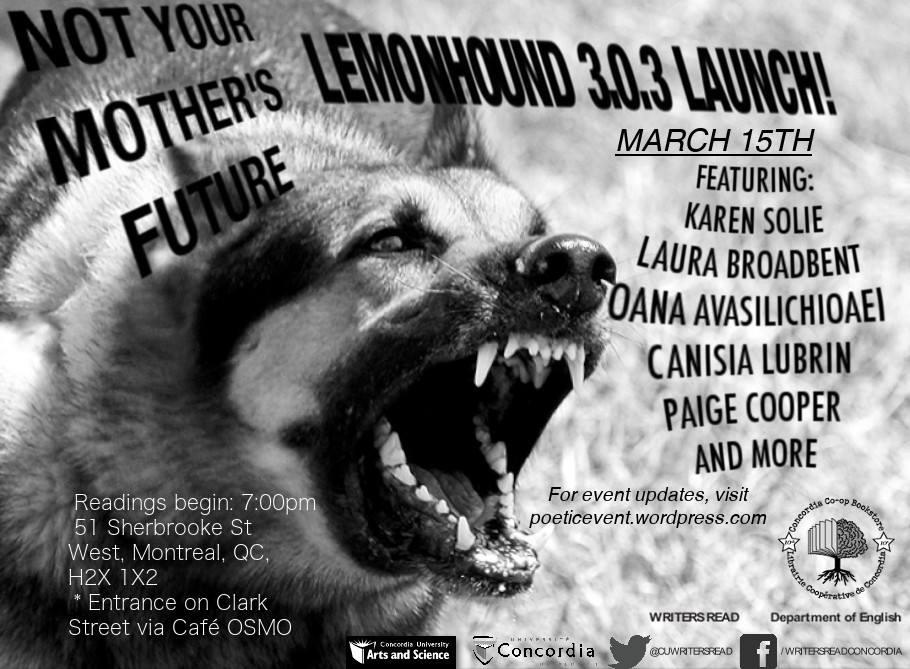 Maison Notman House, 51 Sherbrooke Ouest
More event info here & excerpted below.
"For our third volume, Lemon Hound 3.0 responds to this transformative moment in our literary community by publishing work that intends to smash, upend, rally against, dream of, reclaim, and redefine literary communities—we have chosen writing that is formally or thematically provocative, corporeal, experimental, interruptive, vulnerable, and visionary. Our editorial collective asks you to join us in forging a creative, empathetic resistance. Break the rules. Rewrite them. Reclaim the architecture. Don't apologize.
Join us to celebrate the launch of Lemon Hound 3.0.3: Not Your Mother's Future. In conjunction with the 2018 Off the Page festival.
With readings by:
Karen Solie
Laura Broadbent
Oana Avasilichioaei
Canisia Lubrin
Paige Cooper
Nyla Matuk
And more TBA!
Accessibility Information: The venue is on the third floor and is accessible only by two flights of stairs. Please contact us if we can provide assistance or support in accessing the venue.
We would like to acknowledge that Notman House is located on unceded Indigenous lands. The Kanien'kehá:ka Nation is recognized as the custodians of the lands and waters on which we gather today. Tiohtiá:ke/Montreal is historically known as a gathering place for many First Nations. Today, it is home to a diverse population of Indigenous and other peoples. We respect the continued connections with the past, present and future in our ongoing relationships with Indigenous and other peoples within the Montreal community.
Lemon Hound is run by allies—there will be no tolerance of sexist, racist, transphobic, ableist, homophobic behaviour at this event. If you feel uncomfortable for any reason during the evening please seek out an event organizer, although we cannot guarantee a safe space as this event is public."