August 14 | 7:00 pm
Klara du Plessis + Jeramy Dodds in conversation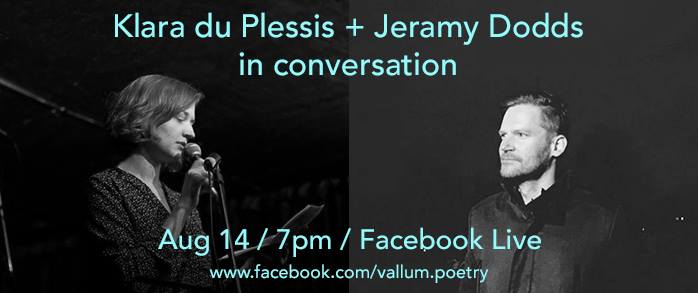 Streaming live from the Rocket Science Room, a conversation between two Montreal-based poets on their forthcoming books.
More info on the conversationalists and on how to tune in below:
Klara Du Plessis is the author of "Ekke" (Palimpsest Press, 2018). "Ekke" is a dialectic, emphatic form of ek, denoting the first person singular in Afrikaans. Multilingually inflected, Klara du Plessis' debut collection of poetry plays with etymology and homonymic mistranslations to explore the multiplicity of self. Occupying a liminal space between South Africa and Canada, these visceral, essay-like constructions straddle the lyrical and intellectual, and brush up against artists like Louise Bourgeois, Diego Velázquez, and Pablo Picasso. Both welcoming and warning, du Plessis' poems are salient reminders to prioritize humanity in the digital age. "Ekke" is a watershed debut from one of Canada's most exciting young voices.
Jeramy Dodds is the author of "Drakkar Noir" (Coach House Books, 2017). Following the Fratellini Family of clowns, Jeramy Dodds astonishes readers and non-readers alike. Techniques such as his patented triumph, the Grand Mal Caesura, along with other favourites, are on display inside. Dodds is a warlock of words, only to be outdone by them, enslaved by them, freed by them – maybe even loved by them. A haunting, yet hilarious depiction of a journey to and fro the furthest limits of the human experiment.
The discussion will be broadcast via Facebook Live, from 7:00 pm – 8:00 pm. Tune in to listen, and participate. We will be accepting questions from you!
Simply visit the Vallum Poetry Facebook account (not the Vallum Magazine page) and look for our post, then watch live! The poets will answer questions from you during the Q+A.