November 12 | 4:00 pm
Hommage à Leonard Cohen: A Perfect Offering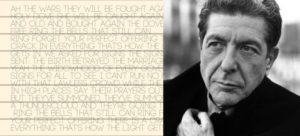 Kathy Kennedy and the Hmmm project invite all Montrealers to share in a commemoration, vigil and sing along to celebrate the life and gifts of Leonard Cohen.
Kathy Kennedy et le projet Hmmm invitent tous les Montréalais à participer à une commémoration et vigil pour célébrer la vie et la musique du grand Montrealais, Leonard Cohen.
Parc du Portugal
Boulevard Saint-Laurent
Event info here.