February 23 | 7:00 pm
Gwen Benaway & Adebe DeRango-Adem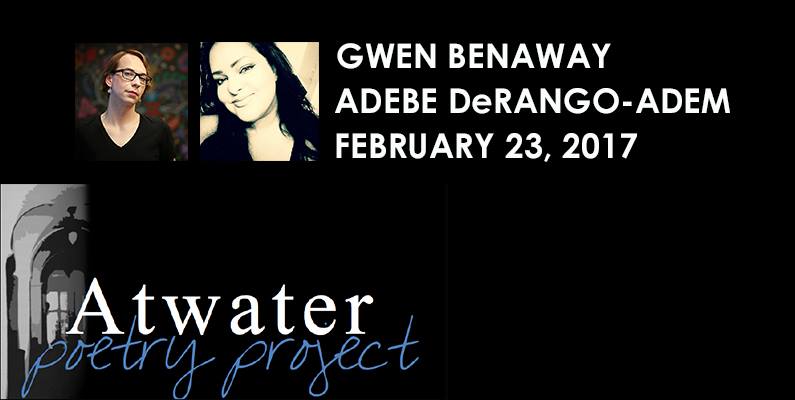 The Atwater Poetry Project presents Gwen Benaway and Adebe DeRango-Adem.
Atwater Library and Computer Centre
1200 Atwater Avenue
More info here and below:
"Gwen Benaway is of Anishinaabe and Métis descent. Her first collection of poetry, Ceremonies for the Dead, was published in 2013 and her second collection of poetry, Passage, is forthcoming from Kegedonce Press in Fall 2016. An emerging Two-Spirited Trans poet, she has been described as the spiritual love child of Thomson Highway and Anne Sexton. In 2015, she was the recipient of the inaugural Speaker's Award for a Young Author and in 2016 she received an Dayne Ogilvie Honour of Distinction for Emerging Queer Authors from the Writer's Trust of Canada. Her work has been published and anthologized internationally. She and her many vintage dresses can be found on Instagram and Twitter @gwenbenaway
Adebe DeRango-Adem was called a young Canadian author to watch in 2016 by Canada's current parliamentary poet laureate, the prolific George Elliott Clarke.
A former student of Anne Waldman and Amiri Baraka through the Jack Kerouac School of Disembodied Poetics at Naropa University, Adebe is the author of two full-length poetry collections: Ex Nihilo ("nee-hill-oh") and Terra Incognita. Ex Nihilo was nominated for the prestigious Dylan Thomas Prize, while Her most recent book, Terra Incognita, published in 2015, was a finalist for the Pat Lowther award. The book explores various racial discourses and interracial crossings both buried in the grand narratives of history and the everyday experiences of being mixed-race. Poems from the collection were also longlisted for the inaugural Cosmonauts Avenue Poetry Prize, as judged by award-winning American poet Claudia Rankine.
Accessibility: Readings generally take place on the second floor of the Atwater Library and Computer Centre building in the auditorium unless otherwise noted. Readings generally take place after official library hours and access to the building is through the side door on Tupper Street (unless otherwise noted.) Unfortunately, the building does not have an elevator. There is a single-occupancy, all-gender washroom on the second floor."
For details on accessibility to the building (including transit access and physical features of the building such as staircases), please visit the link courtesy of the QWF (http://www.qwf.org/pdf/Accessibility-Information-for-1200-Atwater.pdf)."